Designing a closet or a custom closet, a walk-in closet is the most excellent option if you have space. A walk-in closet is a large, specially designed closet that may be used to hang and organize a wide variety of clothing, footwear, hats, and other accessories items.
Why do you need ideas for your luxury walk-in closet?
A well-designed walk-in closet is one of the best ways to store your shoes, clothing, and many other items and accessories. Here we will provide you with many ideas for your luxury walk-in closet.
Your closet is to be renovated to stay up-to-date since following today's trends is essential. Making sure that your new closet's outlook provides you with all the space you want is necessary. Because of that, new ideas for luxury walk-in closets are considered to be necessary.
How can a well-organized luxury walk-in add value to your house?
Having a walk-in closet that looks highly pleasing to one's eyes. It will most likely aid in adding more value to one's house. A walk-in closet is like a dream closet that anyone would like. Many people have dreamed of owning a walk-in closet since childhood. And if this dream is becoming a reality, then it is obvious that any price would be fair.
The closet is also where people visualize their outfits when they have any upcoming occasion.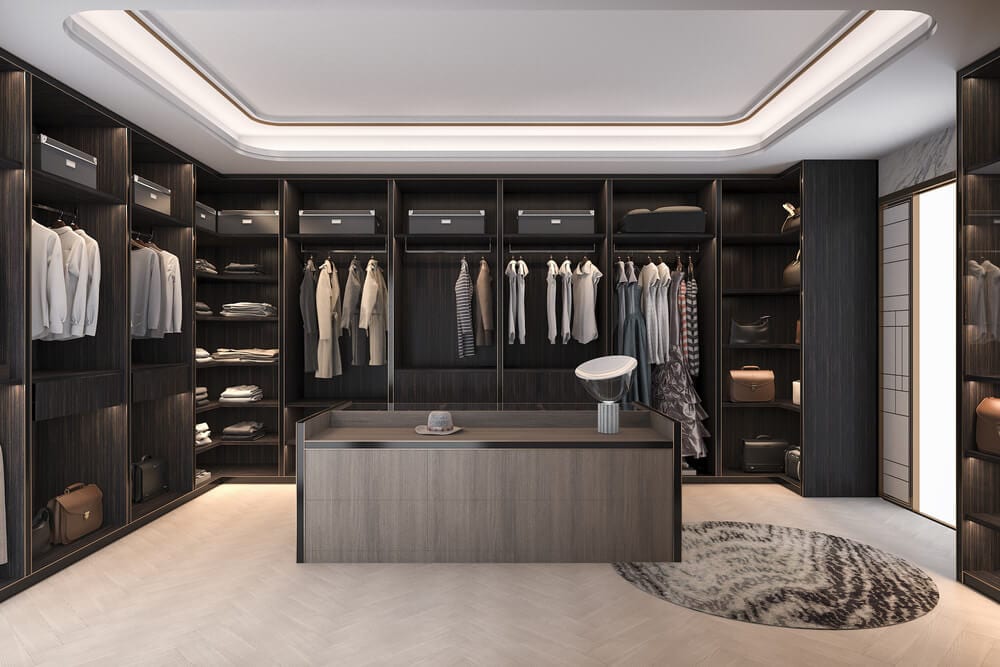 Top ideas for luxury walk-in closets
Following are the top ideas that can help you choose what kind of closet will be according to your liking:
Stylish walk-in glass door
A solid door would have been out of place on this walk-in closet, so sliding glass doors were used instead. The result is an impression of more openness and spaciousness.
The gorgeous clothing on display deserves a setting as elegant as this. Including a central island is also an excellent touch in this well-appointed closet.
This cabinet is functional and aesthetically pleasing to display and conceal jewelry and other modest collections.
White walk-in lacquer closet
In need of some guidance deciphering the color palettes of your walk-in closet? The color white never goes out of style, so don't be afraid to wear it.
White paint in the closet creates a sense of cleanliness and neatness.
Having a comfortable seat in the center of this stylish closet makes it that much more inviting to use.
Walk-in wood grain closet
If a closet is well-designed then it will help you to maximize the available space. The most common hurdle is a corner store which needs to be taken care of as soon as possible.
This type of walk-in closet is well-equipped with sliding shelves to maximize the closet storage space.
In addition, the wood grain design for closets is the best option since they tend to go well with any design.
Large walk-in closet design
You've finally solved the issue of how to organize your enormous walk-in closet best. You'll find a spacious walk-in wardrobe in the villa, perfect for storing clothes and accessories.
With so much space available, you can put your worries to rest. The closet is the size of a modest department store, providing ample room for a wide variety of dressy, business, and casual garments.
The arrangement is practical and provides ample space for the orderly stacking of clothing racks.